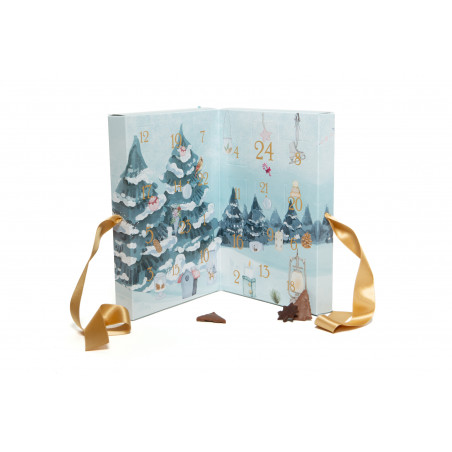  
Advent calendar « Snowman »
Discover every day 24 delicacies from the Benoit Chocolates range.
A deliciously gourmet month for young and old.
The calendar is filled with an assortment of chocolates and sweets, to make young and old wait until Christmas.
Ingredients : Dark and milk couverture chocolates [ Cocoa beans - Sugar - Cane sugar - Cocoa butter - Whole milk powder -- Emulsifier (soy lecithin) - Natural vanilla extract - Barley malt extract ] - Butter - Caramel (skimmed milk, Whey, sugar, butter) - Cocoa paste - Almond paste (sugar, almonds, powdered sugar, water, glucose syrup) - Fresh fruit - Fruit puree - Cream (milk cream, milk proteins, stabilizer) - Egg whites - Nuts (Almond , Hazelnut, Pistachio, Chestnut, Walnut) - Raisin - Coconut - Chestnut cream - Candied fruits (orange peel, chestnuts, lemon, glucose syrup, sugar, preservative) - Biscuit (wheat flour, sugar, butter, milk sugar, milk proteins, salt, barley malt extract, baking powder) - Salt - Lemon juice - Honey - Mint - Ginger - Cinnamon - Coriander - Orange blossom - Vanilla - Tea - Coffee - Seeds - Flavours
Allergens are written in bold
Storage: in a dry place, between 12°C and 20°C, 3 weeks after the date of shipment.
Average nutritional values per 100g: KJ: 2046 - KCAL: 491 Fat: 34g (Saturated fat: 33g) Carbohydrates: 37g (Sugar: 37) Protein: 6.40g Salt: 0.08g
calendrier avent bonhomme de neige
Data sheet
Delivery method

At home
By courrier
In shop
Présence de lactose
Présence d'œufs
Présence de fruits à coque
Présence de lécithine de soja
Présence de gluten
You've been tempted by ...