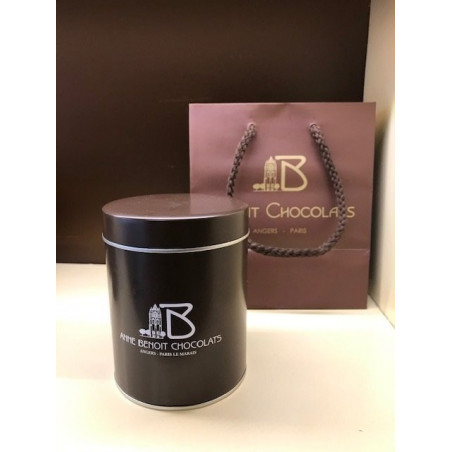  
In a pretty chocolate colored iron tambourine, a treasure is hidden.
This reusable box is filled with a complete assortment of our chocolate specialties:
ganaches,
pralines,
Caramandes,
orangettes...etc
300g of a pure TREASURE of chocolates.
30.80 € (piece) or 102.66 €/kg.
INGREDIENTS : 
Dark chocolate 70% [ Cocoa beans - Sugar - Cane sugar - Cocoa butter and Emulsifier : soya lecithin - Natural vanilla extract ] Milk chocolate 33% [ Cocoa beans - Sugar - Cane sugar - Cocoa butter - Whole milk powder - Emulsifier (soya lecithin) - Natural vanilla extract - Barley malt extract ] - Cream [milk cream, milk proteins, stabilizer : carrageenan] - Crystal sugar - Brown sugar - Invert sugar - Butter (milk cream-lactic ferments) - Cocoa mass - Almonds-Hazelnuts - Caramel [skim milk, whey, sugar, butter] - Hazelnut and cocoa speciality [hazelnuts, sugar, whole milk powder, cocoa butter, cocoa beans, natural vanilla extract] - Vanilla bean - Fruit puree [raspberry, orange, lemon, passion fruit] - Biscuit [wheat flour, sugar, milk, milk protein, salt, barley malt extract, raising agent : sodium hydrogen carbonate ] - Fresh fruit [raspberry, lemon] - Almond paste [sugar, almonds, powdered sugar, water, glucose syrup (preservative: sulfites 150ppm max), invert sugar, Kirsh brandy] - Candied orange peel cubes [orange peel, glucose syrup, sugar, preservatives: potassium sorbate (E202), sulfur dioxide, acidity regulator: citric acid (E330)] - Natural extract [vanilla, coffee] - Alcohols [Cointreau, whisky, cognac (coloring E150b)] - Spirits [Passoa and raspberry liqueur (preservatives: ascorbic acid, acidifier: citric acid)] - Ground Arabica coffee - Lime juice - Natural flavors [Madagascar bourbon vanilla, lemon, passion fruit, raspberry] - Seeds [Coriander] - Salt
Allergens are written in bold
STORAGE :
in a dry place, between 12°C and 20°C, 3 weeks after the shipping date.
AVERAGE NUTRITIONAL VALUES PER 100G:
KJ: 2046 KCAL: 491 Fat: 34g (Saturated GA: 33g) Carbohydrates: 37g (Sugar: 37) Protein: 6.40g Salt: 0.08g
Tambourin-tresor-chocolats
Data sheet
Delivery method

At home
By courrier
In shop
Présence de lactose
Présence de fruits à coque
Présence de lécithine de soja
You've been tempted by ...
How about completing your assortment?