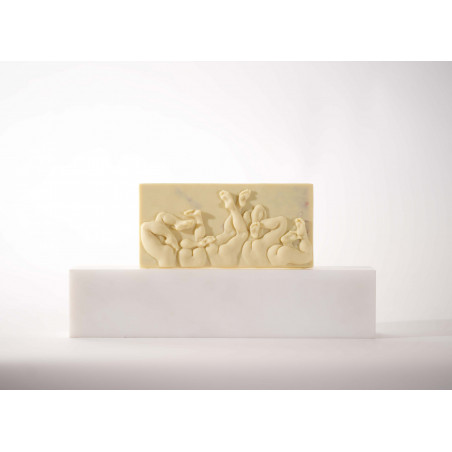  
"CONCERTATION", 220g of Caramandes chocolate art
Edition of an original work of the artist Anne ITZYKSON, this magnificent tablet filled with Caramandes, is a hymn to the taste of art and to the art of taste: A magnificent and precious gift, for rare occasions: Valentine's Day, Birthday, Wedding, Engagement....
Fine nougatine coated with dark or milk chocolate
Ingredients : Dark couverture chocolate 70% [Cocoa beans - Sugar - Cane sugar - Cocoa butter - Emulsifier : (soya lecithin) - Natural vanilla extract] or Milk chocolate 33% [Cocoa beans - Sugar - Cane sugar - Cocoa butter - Whole milk powder - Emulsifier: Soya lecithin - Natural vanilla extract] - Sliced blanched almonds (23%) - Semi-salted butter [milk cream, lactic ferments, salt] - Glucose syrup [preservatives: sulphites (150 ppm max)] - UHT cream [milk cream, milk proteins, stabilizer: carrageenan (E407)] - Vanilla bean - Natural vanilla extract - Salt flower
Allergens are written in bold. Possible traces of egg and gluten.
Conservation: in a dry place, between 12°C and 18°C, 45 days after the date of shipment, see date under the box.
Average nutritional values per 100g: KJ: 2311 - KCAL: 556 Fat: 40g (Saturated fat: 18g) Carbohydrates: 36g (Sugar: 32g) Protein: 8.90g Salt: 0.38g
Data sheet
Delivery method

In shop
Présence de lactose
Présence de fruits à coque
Présence de lécithine de soja
You've been tempted by ...