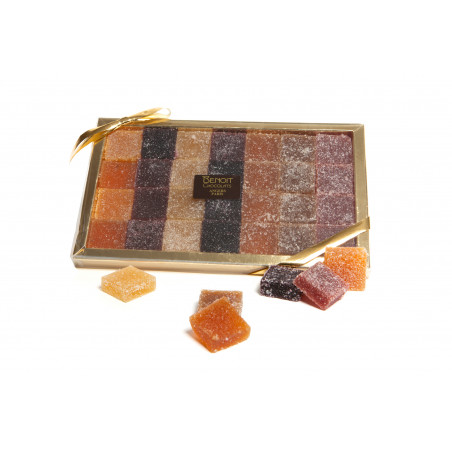  
Box of fruits pasts and jellies
Homemade fruit pastes and jellies : (apricot, strawberry, raspberry, banana, pear, passion fruit, blackcurrant, apple).
Assortment of different flavors that can vary according to our availability and the seasons
Presentation in flat boxes:
Size 1 : 23.50 € (21 pieces, 250g, 94 €/kg)
Size 2 : 29.80 € (28 pieces, 350g, 85.14 €/kg)
Size 3 : 41.80 € (40 pieces, 510g, 81.96 €/kg)
Ingredients : Sugar - Fruit puree (apricot, pineapple, blackcurrant, raspberry, strawberry, passion fruit, pear, apple*°, banana°) [Fruit, fruit pulp, invert sugar, *acidifier: citric acid (E330), °antioxidant: ascorbic acid (E300)] - Apple compote - Glucose syrup [glucose syrup, preservative: sulfites (150ppm max)] - Gelling agent:  Pectin - Acidifier: Citric acid - Water.
Allergens are written in bold. Possible traces of nuts, milk and egg proteins, and gluten.
Average nutritional values per 100g: KJ: 1091 KCAL: 260 Fat: 0g (Saturated fat: 0.4g) Carbohydrates: 64g (Sugar: 56g) Protein: 0g Salt: 0.07g
Best enjoyed within 30 days of shipping, see label.
Storage: keep in a cool place (4° C-12° C).
Data sheet
Delivery method

At home
By courrier
In shop
You've been tempted by ...
How about completing your assortment?
I love it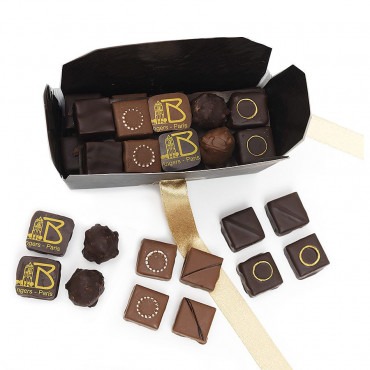 at home
by courrier
in shop
I love it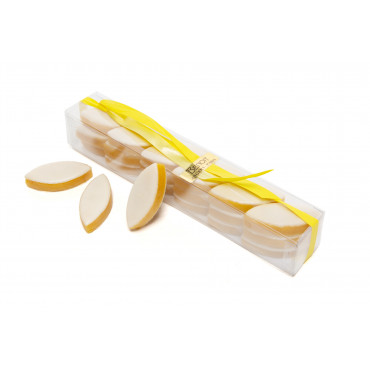 at home
by courrier
in shop
/