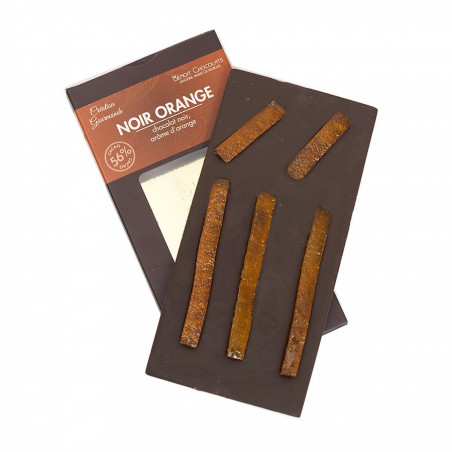  
Plain orange dark chocolate bar 56%
Plain orange dark chocolate bar 70% of cocoa perfumed with orange aroma and  orange peels.
Weight : 100g (80€/kg)
Ingredient: Cocoa beans – Sugar – Cocoa butter - Emulsifier (soy lecithin) - Natural vanilla extract – Orange flavor

Allergen: may contain traces of nuts, milk proteins, egg and gluten.



Average nutritional values per 100g: t KJ : 2352 t KCAL : 560 t Fat : 39g (of which saturated : 25g) t Carbohydrates : 42g (of which sugars : 39g) tProtein : 5.4g t Salt : 4.6g
Data sheet
Delivery method

At home
By courrier
In shop
Présence de lécithine de soja
You've been tempted by ...